As per leaked data, Huawei will soon launch a 600 kW supercharger that supports Chinese 2015 DC fast-charging standard and is at par with Tesla V4 charger
Earlier this month, details of Huawei's upcoming 600 kW supercharger leaked online. As is obvious, the new charger will have a maximum power of 600 kW. It will have an output voltage of 200V to 1000V and a max. output current of 600 Amp. It will be in compliance with the 2015 DC fast-charging standard in China. While Huawei has been providing many DC fast chargers, it will be the first time that one of its charger will compete with the Tesla V4 other than outclassing 500 kW fast charger launched by Nio in December 2022.
You May Also Read: Locations of Tesla Supercharges Now Showing on Rivian's Navigation
Huawei's 600 kW Supercharger to be Marked as Fusion Charger
Currently, the fourth-gen Tesla V4 Supercharger has the highest max power output of 600 kW. This is significantly more than 480 kW peak output offered by Xpeng Motors' S4 supercharger and identical to Huawei's upcoming offering. In fact, from what is understood, the new supercharger will be capable of offering 100 kWh in just 10 minutes. Other available information is that the new equipment has been manufactured by Huawei Digital Energy Technology Co., Ltd. Its dimensions are marked as 295 mm x 340 mm x 1700mm (LWB), and the model number is DT600L1-CNA1. The charging cable that is being provided measures 3.5 metre in length. It looks like this charger will be marketed as Fusion Charger.
The charger will be liquid-cooled. The fact that Huawei has been working on developing high-power charging technology goes on to show its focus on setting up a robust charging infrastructure to support the EV industry. It is important to note here that Huawei already offers DT600L2-CNA1 DC fast-charger that has two cables, 1000V voltage, a total power output of 360 kW and maximum current output of 250 A.
You May Also Read: Tesla Supercharger Network in USA Now Open to All EVs!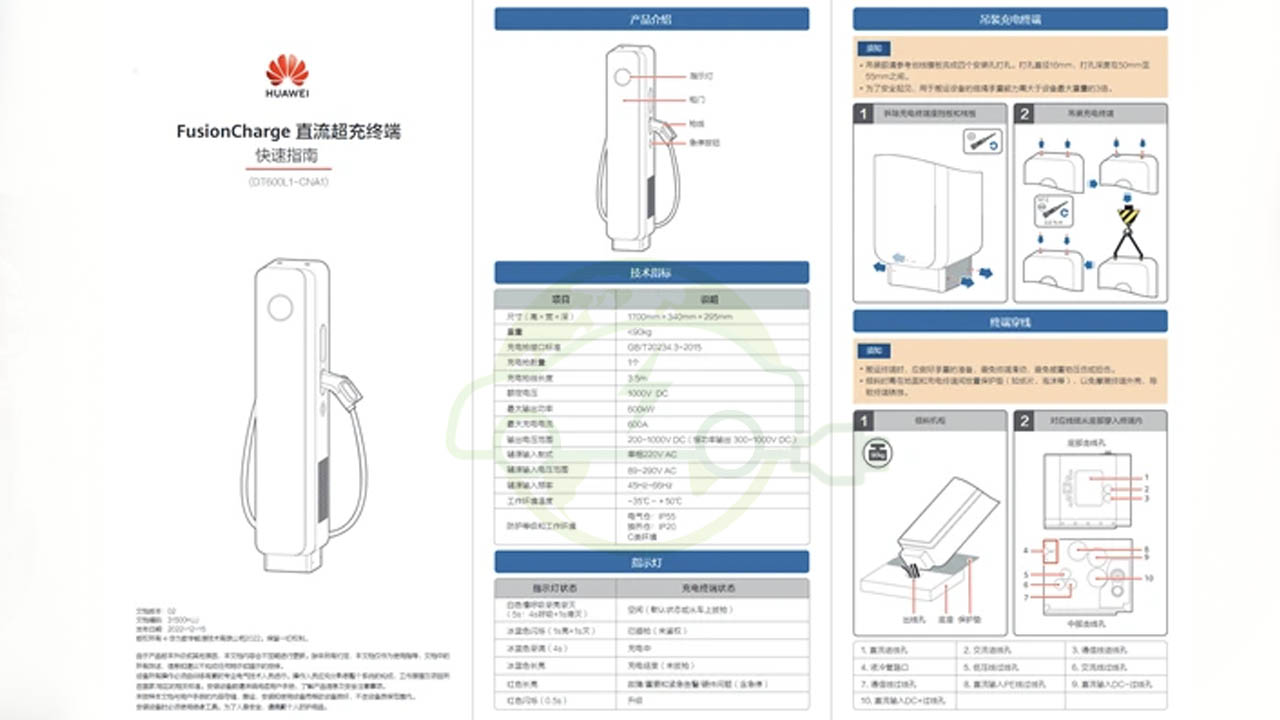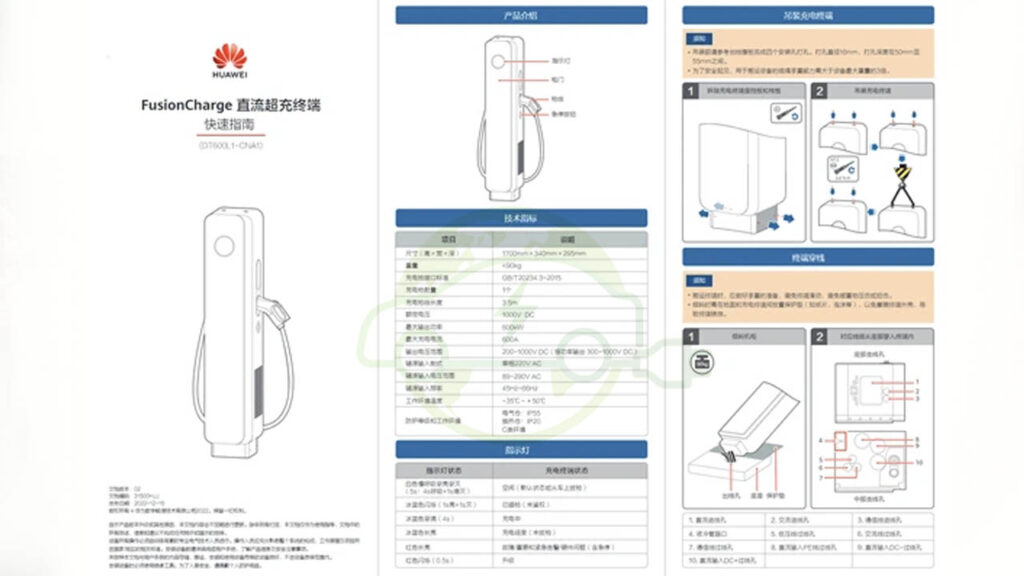 You May Also Read: Tesla Sends China's EV Market in Frenzy with 50% Discount Offer
Current EVs Not Ready for Such High Power Equipment
It's clear that Huawei has been trying hard to establish itself as major force in the electric car industry. In line with this, the carmaker recently named its Aito M6 to Huawei Aito M5 to benefit from an improved brand recall. The upcoming 600 kW supercharger is another step in this direction. The issue, though, is that the current crop of EVs aren't ready to enjoy the full potential of these superchargers. So, it's still some time before can actually fully benefit from such high power equipment.
You May Also Read: 5-door Suzuki Jimny Reimagined in EV Avatar