Rivian R1T is an American EV pickup truck that aims to challenge the iconic Ford F-150 Lightning and the upcoming Chevy Silverado EV.
In a unique spotting, a Rivian R1T EV pickup truck was seen with a unique 8-seater configuration in Africa. Rivian has emerged as a prominent new player in the global EV space with sales in the US. It has decided to lock horns with the legacy automakers and their iconic products like the Ford F-150 Lightning and Chevy Silverado EV. Reviewers and customers alike, are finding the electric vehicles from Rivian quite impressive. The EV startup has managed to strike a great balance between practicality, latest features and affordability.
You may also like: Rivian CFO Woos Investors with Mega Announcements
8-Seater Rivian R1T EV in Africa
This post was shared on the Rivian Forums by a user shammyrocked who mentions that his friend spotted it when he was on a safari tour in Kenya. The EV sports a badge that reads Maasai Wilderness Conservation Trust (MWCT). Interestingly, it had announced a pilot program with Rivian back in 2022 to supply 4 R1T models to the Kenyan conservation trust. Since these EVs would be needed to traverse across areas with wild animals, they needed to be silent and eco-friendly.
You may also like: Rivian Registers Record Deliveries in Q1, 2023 – 548% YoY Growth
It looks like this 8-seater version is a part of that cooperation. In fact, Rivian has designed this unique iteration of the popular R1T. The EV is a right-hand drive version and the roof has been completely removed. Instead of that, a canvas has been attached like you see on safari carts. Additionally, there are 8 individual seats installed on it to further establish the safari car vibe. Then there are two spare tyres mounted at the rear along with a rugged bull bar enhancing its tough demeanour. The trust also uses other prominent vehicles like retrofitted EV Land Rover SUVs to conduct its daily operations in the wilderness.
You may also like: Locations of Tesla Supercharges Now Showing on Rivian's Navigation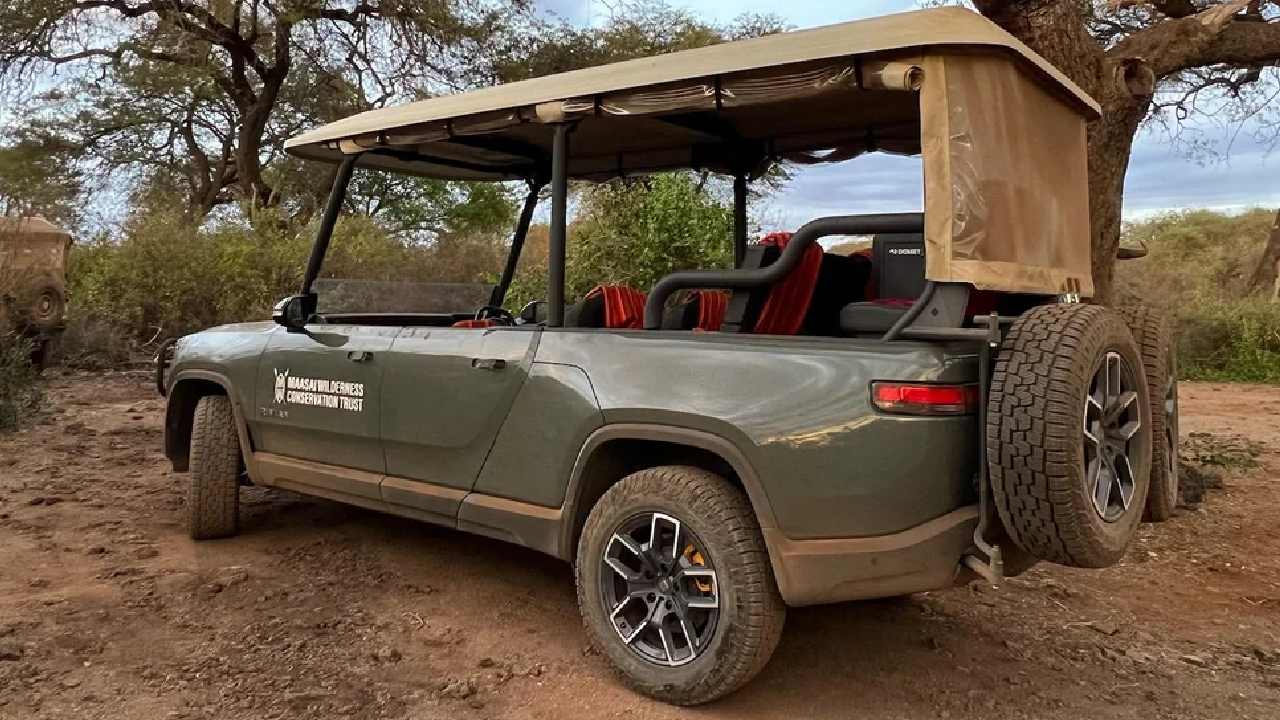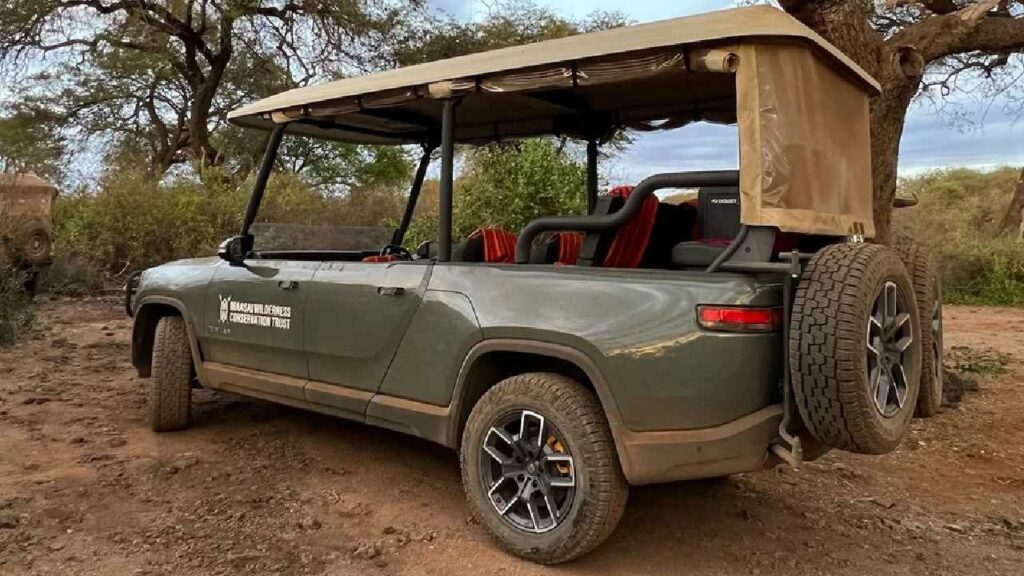 You may also like: Tesla Cybertruck Less Popular Than Ford F-150 Lightning, Rivian R1T Least Popular: Survey
Specs
Rivian R1T, in its most aggressive trim, comes with a 129 kWh battery pack that powers 4 electric motors mounted on each wheel. The total power and torque output stands at a whopping 835 hp and 908 lb-ft (1,231 Nm) allowing a 0-60 mph acceleration sprint in just 3 secs. The range is 314 miles on a single charge and the towing capacity reads 11,000 lbs. Its bed is 54.1 in (1,374 mm) long with the tailgate up which enhances practicality manifold. The 2023 Rivian R1T starts at $73,000 (MSRP).